Until recently international exhibitions have been drawing tens and hundreds of thousands visitors and served as a powerful accelerator of global trade. The pandemic put the entire event industry (forums, concerts, etc.) on a prolonged hold, and a wide event river turned into a tiny beck of online catalogues, online events and trade webinars.
Hope burns bright that exhibitions will resume operation in autumn (many major events were rescheduled for September-October). Companies and individuals tired of self-isolation and social distancing will fill up deserted exhibition centers and things will get back to normal...
Hardly so. A large-scale crisis like this can't go unnoticed – the global exhibition industry will never be the same. And it's not even about the time frame to resume previous volumes – it's about viability of the exhibition business model. The world is changing, and to remain relevant and essential exhibitions should change as well.
FUTURE TREND: LESS IS MORE
The new reality will make people more careful about any interaction concepts involving massive socializing. In plain words, the fewer the number of people you need to contact is, the better. This will make major large-scale exhibitions, being a mixture of a business event and a public fest attended by tens and even hundreds of thousands people, most vulnerable after the pandemic.
There is a little prospect that such events will resume operation based on their usual model due to considerable troubles with assurance of social distancing. This is also true for music festivals, for example.
Small focused events for specific audiences will be more appealing both for businesses and visitors. This makes it reasonable to divide large exhibitions into smaller industry-specific events. The latter may be held either on different dates or simultaneously – yet, subject to accurate exposition zoning into isolated sectors with separate entrances.
In general, all participants will become more particular about visitors. What's the good of tens of thousands of visitors if most of them are not the target audience? Increase in visitor numbers for the sake of "appealing figures" obtained through off-target visitors will no longer be an effective strategy. Selective work of exhibition organizers to find and invite visitors in line with the participants' interests will be sought after.
As for trade fairs for bulk audiences, this segment will inevitably loose its already low value. The pandemic will teach inexpensive online shopping to those who used to be lazy or ignorant about it.
FUNCTIONALITY, ENVIRONMENTAL FRIENDLINESS, SAFETY
Trade-specific, highly tailored events with a small audience will be held for shorter periods, and two-day exhibitions will be more popular than before, while one- or two-week exhibitions will pass into oblivion.
Meanwhile, such short exhibition periods will make easy and ecofriendly booth solutions particularly popular. There will be less demand for solid structures that, among other things, are a considerable source of waste. Recovery of waste after booth disassembly is already a serious and an expensive issue in a number of Middle East countries, and this tendency is likely to expand to other regions.
The same applies to large exhibits, delivery and installation of which requires extensive resources. Booth construction will apply more light frames, fabrics, cardboard and skillful lightning for demonstration - 3D views, virtual and augmented reality, interactive models.
Hygiene and safety will definitely become one of the priorities. Probably, from this point forward we need to give up traditional handshakes when we meet? How is that for business cards and leaflets (another form of physical contact)? Maybe it would be better to replace them with QR-codes sending all contact details to a visitor's smartphone?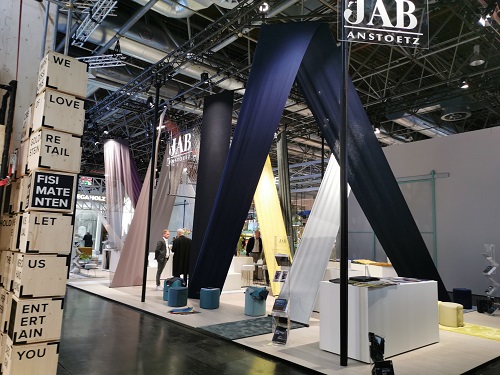 To minimize unessential social contacts, exhibitions will introduce fully enclosed booths with access only by preliminary agreement. Target audience will be visiting the exhibition strictly following the assigned route and visiting pre-agreed booths, rather than freely walking around.
Yet, there will be people unwilling to compromise their health during flights and direct communication with other people. For such people we will need to create an "online mirror" of the exhibition where they can have a look at the exhibits and talk to representatives of the companies.
A hybrid exhibition concept with interchangeable and mutually reinforcing offline and online components will become the new normal after the pandemic. The online component will have its effects for the participants the year round and will be instrumental in creating a specialized professional community as part of webinars and tutorials, as well as an information and education platform for exchange of expert information.
Exhibition companies usually consider online platforms as a threat to their traditional business model. But, whether we want it or not, a wide spread of online platforms is unavoidable and there is no point in being afraid of it. Despite all advantages of virtual platforms, they won't replace traditional exhibitions but rather supplement and strengthen them.
Only true-life exhibitions make it possible to test products of hundreds producers from multiple countries in a day or two, hold talks with key personnel from tens of companies and come home with signed contracts. Any business is based on trust, this is particularly true about Asia and Africa, and building trust relationship over the internet is really hard, if not impossible
CHANGES ARE HARD BUT NEEDED
Many of exhibition organizers are unlikely to give up customary practices and tried-and-tested event formats that proved their efficiency over decades, and they will tend to simply wait for removal of restrictions and resumption of operation. Such mindset is dangerous and may lead to nasty surprises in the future.
It's worth noting that exhibition companies haven't been out of the comfort zone for a long time and were subject to innovation trends to a lesser extent than other industries (including those participating in their exhibitions). Right now it is essential to draw out a lesson and predict future trends to keep exhibitions relevant. This requires getting to the bottom of the service provided by exhibition companies, understanding its best part and getting rid of all unnecessary elements.
The main point of exhibition services is to help the seller and the buyer find each other and talk in a friendly environment on neutral territory. The new reality requires from exhibitions a deeper and more delicate understanding of businesses and their changing interests than it used to be before the pandemic.
For decades exhibition companies were more like service companies that didn't go deep into the issues of the industries they worked with. Relationship between exhibition organizers and customers often resembled relationship between a restaurant keeper or a gym owner and their customers: a customer came, got served, paid and left. Their occupation, interests and aspirations were irrelevant.
This format of relations is getting increasingly obsolete. Exhibition companies should integrate into the issues of the customers' industry issues, have a deep understanding of the industry and become a full-fledged partner in problem solving, continuously introducing a wide range of services and solutions essential for the industry. This is a challenging task but it will allow the exhibition industry remain relevant and highly-demanded even in new conditions.
ONLINE EXHIBITIONS: PROS AND CONS
All this will happen later, but what is business supposed to do now, in absence of exhibitions that were a common tool to search for partners, logistic setup, brand communications and marketing researches?
There is just one obvious answer: internet. Under circumstances where trips are no longer possible and many companies across the world are working remotely, online solutions seem to be consistent.
Information about new online exhibitions is emerging every other week. Many of them are set up by people who hardly have anything to do with the exhibition industry and are simply seizing the moment to hype and make a quick buck. As a result, we see resources with big names, like "global online exhibition", or names imitating other famous exhibitions. But upon a closer view they are nothing more than simple online catalogues: a picture and a product description, and a link to the company website.
The key difference between a B2B exhibition and a plain demonstration of products in a format of a museum exposition is direct communication between company representatives and visitors. If this is not the case, it would be more correct to call such resource an online catalogue and do not mislead the audience by big names.
Yet, there are also some interesting solutions that may prove to be useful for business. Here we can suggest some recommendations:
Take a close look at the portfolio of the exhibition organizer: are they experienced and competent in the exhibition industry? If not, the event will hardly be of adequate level or give any results.
Take a close look at functionality of the virtual booth: Is there an option for direct communication with visitors? If not, better not waste your money on such "exhibition" and rather create a page on Alibaba.
Study a promotion plan of the virtual event. Any exhibition is first of all valued by its audience. If no assets are allocated to attract it, your virtual booth will most likely be visited only by your colleagues and bored participants from neighboring virtual booths.
A low participation fee offered by some organizers may seem a solid argument. But you need to keep in mind that if the organizer asks for a remarkably low fee, they will hardly have enough funds for promotion and invitation of visitors. In general, given that today a brand is one of the core business assets, it's better to think twice before posting it on an inappropriate platform, even if the price is appealingly low.
Online platforms applied by various organizers markedly differ in their feature set: some offer gamification and a 3D space, others are notable for primitive design and rigorous usability. Each of these solutions has its pros and cons, and their relevance depends on specific goals of a company or a project.
Before the pandemic these platforms were used for career fairs, startup expos or as a limited functionality 3D toy for big companies who wanted to impress partners with their openness to innovations and e-solutions. Developers of these platforms are now enjoying an hour of triumph; we will watch closely how this segment will continue to unfold after the pandemic.
Having studied several dozens of different online platforms, we decided to combine the most efficient solutions into our own platform and we plan to launch a series of online exhibitions Made in Belarus Online in June-August. We shall see how things turn out.
About the author: Eugene Vvedenski CEO of Exhibition Unitary Enterprise "Belinterexpo" of the Belarusian Chamber of Commerce and Industry, an exhibition and MICE expert with a 10-years hand-on experience. E. Vvedenski managed and supervised more than 250 exhibitions, expositions, forums, conferences and workshops in 60 countries worldwide.
Resource:https://news.tut.by/economics/685198.html